E-Module Bahasa Pemrograman Java Berbasis Exe-Learning
Keywords:
Exe-Learning, Instructional Media, Java Programming Language
Abstract
Learning informatics is often considered a difficult subject by junior high school (SMP) students, especially in the introduction of algorithms and programming languages. There are many variables that cause problems that teachers often face when teaching informatics. One of them is the unavailability of learning media. Therefore, research was conducted to discuss learning media for the Java programming language using Exe-Learning. The purpose of this study is to produce learning media that contains material on the introduction of algorithms and the introduction of the Java programming language. In designing and building this learning media using the ADDIE method which consists of 5 stages, namely Analysis, Design, Development, Implementation, and Evaluation. This research produced learning media in the form of Java Programming Language E-Modules. This learning media has been tested and validated by media experts and material experts with the validation results of this learning media expert with a percentage of 90% and material experts with a percentage value of 95.38%, indicating that this media is very feasible to use as a learning resource in subjects informatics, especially on material algorithms and programming languages
References
I. Pebriyanti, D. G. H. Divayana, and M. W. A. Kesiman, "Pengembangan Media Pembelajaran Berbasis Multimedia Pada Mata Pelajaran Informatika Kelas VII Di SMP Negeri 1 Seririt," Kumpul. Artik. Mhs. Pendidik. Tek. Inform., vol. 10, no. 1, p. 50, 2021, doi: 10.23887/karmapati.v10i1.31110.
M. S. Ulfa, "Perancangan Media Pembelajaran Informatika Berbasis Android Menggunakan Google Sites dan Appsgeyser," vol. 5, no. November, 2022.
A. Fahmizhar, "Pengenalan Konsep Coding Untuk Anak Menggunakan Game Berbasis Dekstop," 2020, [Online]. Available: http://eprints.ums.ac.id/88867/1/NASKAH PUBLIKASI.pdf.
D. N. Zuraidah, M. F. Apriyadi, A. R. Fatoni, M. Al Fatih, and Y. Amrozi, "Menelisik Platform Digital Dalam Teknologi Bahasa Pemrograman," Teknois J. Ilm. Teknol. Inf. dan Sains, vol. 11, no. 2, pp. 1–6, 2021, doi: 10.36350/jbs.v11i2.107.
R. Rama, "Aplikasi Pengolahan Data Keuangan Berbasis Java Pada CV. ADM Technology Menggunakan Netbeans," vol. 6, no. 1, pp. 57–63, 2022.
D. Nurnaningsih and A. A. Permana, "Rancangan Aplikasi Pengamanan Data Dengan Algoritma Advanced Encyption Standard (AES)," J. Tek. Inform., vol. 11, no. 2, pp. 177–186, 2018, doi: 10.15408/jti.v11i2.7811.
I. Junaedi, N. Nuswantari, and V. Yasin, "Perancangan Dan Implementasi Algoritma C4 . 5 Untuk Data Mining Analisis Tingkat Risiko Kematian Neonatum Pada Bayi," J. Inf. Syst. Informatics Comput., vol. 3, no. 1, pp. 29–44, 2019, [Online]. Available: http://journal.stmikjayakarta.ac.id/index.php/jisicom/article/view/203%0Ahttp://journal.stmikjayakarta.ac.id/index.php/jisicom/article/download/203/158.
T. Nurrita, "Pengembangan Media Pembelajaran Untuk Meningkatkan Hasil Belajar Siswa," Misykat, vol. 03, pp. 171–187, 2018.
D. Lisyanti, "Pengembangan E-Modul Matematika Berbasis Exe-Learning Pada Siswa SMP Kelas VII," J. Chem. Inf. Model., pp. 1–100, 2019, [Online]. Available: http://repository.radenintan.ac.id/id/eprint/7309.
Intan Kurniasari, "PENGEMBANGAN E - MODULE BERBASIS EXE-LEARNING BERCIRIKAN ETNOMATEMATIKA PADA MATERI BANGUN RUANG PESERTA DIDIK KELAS VIII," Pakistan Res. J. Manag. Sci., vol. 7, no. 5, pp. 1–2, 2018, [Online]. Available: http://content.ebscohost.com/ContentServer.asp?EbscoContent=dGJyMNLe80Sep7Q4y9f3OLCmr1Gep7JSsKy4Sa6WxWXS&ContentCustomer=dGJyMPGptk%2B3rLJNuePfgeyx43zx1%2B6B&T=P&P=AN&S=R&D=buh&K=134748798%0Ahttp://amg.um.dk/~/media/amg/Documents/Policies and Strategies/S.
A. A. Yahya, "PERANCANGAN VIDEO PROFIL BERBASIS 3D DENGAN MENGGUNAKAN GOOGLE SKETCHUP SMP NEGERI 1 TOWUTI," Univ. COKROAMINOTO PALOPO, no. 2, pp. 1–18, 2021, [Online]. Available: https://www.ptonline.com/articles/how-to-get-better-mfi-results.
M. Rosmiati, "Animasi Interaktif Sebagai Media Pembelajaran Bahasa Inggris Menggunakan Metode ADDIE," Paradig. - J. Komput. dan Inform., vol. 21, no. 2, pp. 261–268, 2019, doi: 10.31294/p.v21i2.6019.
N. L. Purnamasari, "Metode Addie Pada Pengembangan Media Interaktif Adobe Flash Pada Mata Pelajaran TIK," J. Pendidik. Dan Pembelajaran Anak Sekol. Dasar, vol. 5, no. 1, pp. 23–30, 2019, [Online]. Available: https://jurnal.stkippgritulungagung.ac.id/index.php/pena-sd/article/view/1530.
D. S. M. Sidik Priadana, Metode Penelitian Kuantitatif. Pascal Books, 2021.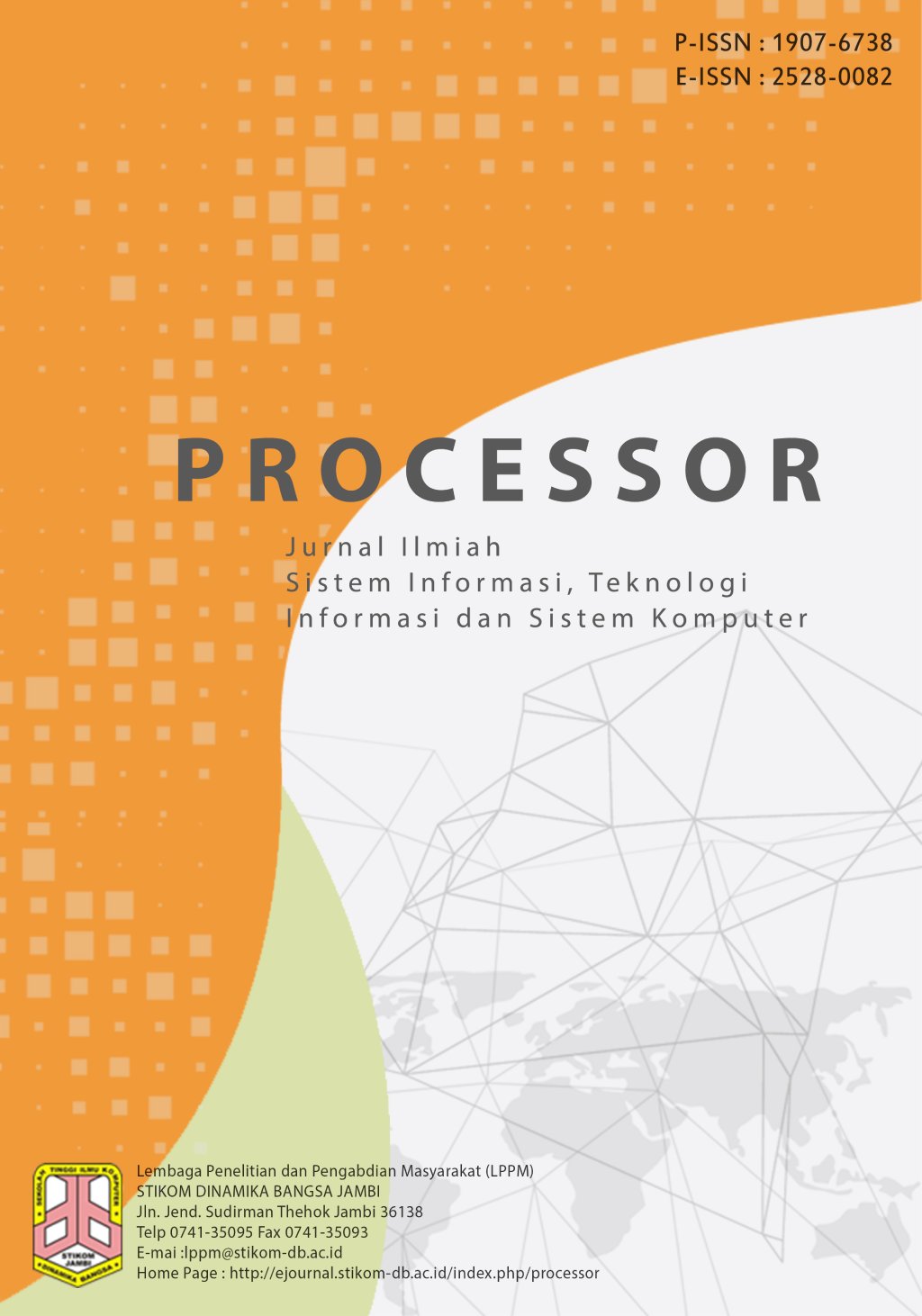 Downloads
How to Cite
Rahmat Musfikar, Ichsanul Akbar, Sarini Vita Dewi, & Aulia Syarif Aziz. (2023). E-Module Bahasa Pemrograman Java Berbasis Exe-Learning. Jurnal PROCESSOR, 18(1). https://doi.org/10.33998/processor.2023.18.1.704