Perencanaan Strategis Sistem Informasi Menggunakan Metode Ward And Peppard Pada Gentala Hospitality School
Keywords:
perencanaan strategi, sistem informasi, ward and peppard, critical success factor, SWOT
Abstract
Sebagai lembaga Pendidikan dan Pelatihan Kerja, GENTALA HOSPIATLITY SCHOOL (GHS) terus mengembangkan diri untuk dapat memenuhi kebutuhan kerja dari dunia usaha dan industry. Dalam mencapai tujuan bisnis lembaga maka diperlukan perencanaan strategis SI/TI untuk mendapatkan keunggulan kompetitif melalui pemanfaatan teknologi informasi dan komunikasi bagi lembaga, mengidentifikasi strategi dan teknologi yang digunakan sesuai dengan visi dan misi serta kebutuhan lembaga. Penelitian ini menggunakan metodologi Ward and Peppard untuk merumuskan Peta Rencana Strategis terutama pada bidang SI/TI pada Gentala Hospitality School (GHS). Analisis lembaga saat ini dilakukan menggunakan tools SWOT untuk analisis lingkungan internal dan eksternal lembaga,  analisis target menggunakan tools Value Chain untuk analisis lingkungan bisnis internal dan mcFarlan Strategic Grid untuk analisis lingkungan IS/IT internal target. Hasil dari penelitian berisikan rekomendasi penyempurnaan sistem informasi yang sudah ada dan penambahan sistem informasi baru, sehingga dapat digunakan secara maksimal.
Downloads
Download data is not yet available.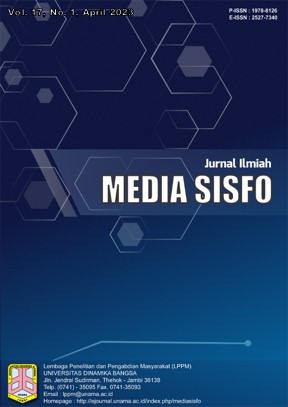 Downloads
How to Cite
Aryani, L., Agustini, S. R., & Andrianti, A. (2023). Perencanaan Strategis Sistem Informasi Menggunakan Metode Ward And Peppard Pada Gentala Hospitality School. Jurnal Ilmiah Media Sisfo, 17(1), 93–105. https://doi.org/10.33998/mediasisfo.2023.17.1.728