Prototype Sistem Informasi Manajemen Stok Berbasis Web Pada Toko Jasmine
Abstract
Abstract
Jasmine shop is one of the shops in Jambi city that sells merchandise such as sheets, bed covers and pillowcases. In carrying out transactions for recording and managing stock of goods, they want to switch to a web-based computer application system, which so far still uses manual recording with books. So that problems often occur in the form of: recording errors, errors in reporting stock items and the manual book is damaged so that it is difficult to know the old records and with the manual system the work becomes less effective and efficient. This study aims to design a web-based stock management information system. So that employees in recording, reporting and managing stock items can be done precisely and accurately. In this study, only a prototype of an information system was produced to be tested and could be further developed in the future. The methods used in this research are: field research, literature study, system requirements analysis, system modeling and system prototype. By designing a prototype system, it is expected that data processing can produce precise and accurate information so that it can assist superiors in making decisions and minimize data input errors.
Keywords : information system, stock management, prototype, web
Abstrak
Toko Jasmine adalah salah satu toko yang berada di kota Jambi yang menjual barang dagangan sprai, bedcover dan sarung bantal. Dalam melakukan transaksi pencataan dan manajemen stok barang ingin beralih ke sistem aplikasi komputer berbasis web, yang mana selama ini masih menggunakan pencataan manual dengan buku. Sehingga sering terjadi permasalahan berupa : kesalahan pencatatan, kesalahan laporan stok barang dan buku manual tersebut rusak sehingga kesulitan mengetahui pencatatan lama dan dengan sistem manual pekerjaan menjadi kurang efektif dan efesien. Penelitian ini bertujuan untuk merancang sistem informasi manajemen stok yang berbasis web.  Sehingga karyawan dalam melakukan pencatatan, laporan dan mengelola stok barang dapat dilakukan dengan tepat dan akurat. Dalam penelitian ini hanya menghasilan prototype sistem informasi untuk dapat diujicoba dan dapat lebih dikembangkan dikemudian hari. Metode yang digunakan dalam penelitian ini berupa : penelitian lapangan, studi literatur, analisa kebutuhan sistem, pemodelan sistem dan prototype sistem. Dengan perancangan prototype sistem ini diharapkan dalam pengolahan data agar dapat menghasilkan informasi yang tepat dan akurat sehingga dapat membantu atasan dalam mengambil keputusan serta meminimalisir kesalahan input data.
Kata kunci : sistem informasi , manajemen stok, prototype, web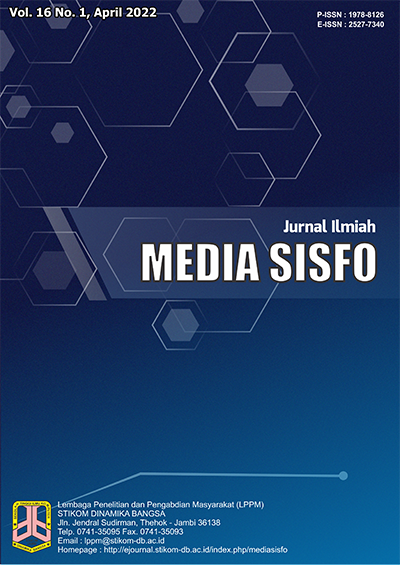 Downloads
How to Cite
Masgo, M., & Santoso, S. (2022). Prototype Sistem Informasi Manajemen Stok Berbasis Web Pada Toko Jasmine. Jurnal Ilmiah Media Sisfo, 16(1), 33–40. https://doi.org/10.33998/mediasisfo.2022.16.1.1175